Airalo is an online shop which sells products to provide mobile internet via eSIM to multiple destinations worldwide. Airalo is a combination of the words Air and Alo, (which means hello in many parts of the world). It allows travelers to access varied data plans in different regions (North America, Asia and Africa), countries and even globally.
This article provides a preliminary analysis of the data associated with the product and SIM of Airalo, you will find the main features both operational and technical characteristics, all references associated with the plans offered by the provider, from coverage details, usability, installation and activation, purchase procedures among others.
We will describe the advantages and disadvantages, user reviews and recommendations in each section that can help you choose the right one for your needs. On the other hand we will also expose information related to the corporate aspect such as the founding team and channels which is available towards the end of the article.
eSIM Airalo, what does it consist of?
No wonder Airalo, one of the world's largest global roaming service providers, has risen to this position thanks to its innovative eSIM (embedded SIM) product, a radical departure from the physical SIM card that will revolutionise the mobile telecommunications industry and other devices when travelling abroad, the company offers local, regional and what was thought to be impossible roaming data plans, a card for travellers going all over the world.
Currently you can still get physical SIM cards that provide roaming service on your travels, you must wait days for them to be sent home and this means finding a range of difficulties to deliver, you will be lucky if your physical card does not break down at your destination or if you forget it at home before leaving, these are some of the problems that the virtual card comes to solve. all the details and features of this product are shown below.
Why buy Airalo eSIM?
It is an issue that has no complications, you can get it at moderate prices on the web or from the mobile application, check if your mobile is compatible with this technology on the websites we have mentioned, with Airalo you have a wide range of destinations, the installation process is manual and relatively short, you do it by scanning a QR code from the device settings, the instructions are provided by the company via email, you can also extend your plan in case you have exhausted your balance, you must go to the web or the app and select Go to my eSIMS. With Airalo eSIMS it is also possible to subscribe to multiple data plans with just one eSIM profile.
Reviews of the Airalo eSIM

There are almost no reviews of this product on the web. Here are some of them, both good and bad, so that you can see both perspectives.
Positive feedback
Excellent services for E sim and the only problem is UK data. Best service from all other countries. Great support team. Worked perfectly in Canada, Turkey and Holland.
Mooz in Trustpilot
Just make sure you set the right APN for esim which was not mentioned during installation. But it worked.

Ox trader in App Store
I would like to say that this service is a lifesaver as a complement to my regular telephone service, especially on holidays. It works great! Thank you

Keys in App Store
I've gone through the hassle of "finding a local SIM card" several times so far! I don't even want to mention the legal problems when you try to terminate the contract (as if I ended up paying additional fees even though I was quite careful with the dates). This seems like a definite solution to all those problems! Good product! Keep up the good work!

Pina Guler in Product Hunt
Negative reviews
It didn't work for me: I bought a gigabyte of data for 7 days the night before my trip to Mexico. When I arrived, I noticed I had a 3G connection, but couldn't charge anything. It says it's disabled, but I followed all the instructions provided in the app.

Fernoodie in App Store
I bought Airalo Esims twice, once for Thailand and once for India, it failed terribly both times, it did not connect to any network. It left me stranded at the airport and I finally had to activate my home network. Sims are important as you need internet at airports to book taxis or contact your relatives, but I had a terrible experience and wasted my time and money troubleshooting. Very sad: / To add, I bought esim in Singapore where I am staying so I can use the credits already bought. It worked in Singapore, however, my internet IP was connected through some server in Europe, so the network speed was terrible at all times of the day (SIC).

Prakash aviar in Product Hunt
I bought esim for israel and it doesn't pick up any network, maybe because it couldn't be activated at home. I did everything by instructions (SIC)

Petr Ondrus in Product Hunt

I have been using it only in Spain. I have 3G and 4G, but never LTE, which they claim is available. In the centre of Malaga, so it's a big enough city.

Margo in Trustpilot
How and where can I buy an Airalo eSIM?
You can do it from the official Airalo website or through the mobile applications that also serve as personal shops (Apple App Store (iOS) and Google Play Store (Android)).
Features of the Airalo eSIM
Operative features eSIM
FAQ
Answer
Accesibility
Where and how can I buy it, is it expensive?

Purchase from the official website and shops (Apple App Store (IOS) and Google Play Store (Android)).
Top-up
Can I top up my credit while abroad?
Make a to up from the web or in the app
Add plans outside your country or region.
Instalation guide
How do I install it on my device?
Follow the activation instructions in this article.
eSIM profiles
How many eSIMs can I have installed at the same time?

You can install up to 12 e SIMs in your account but only one active one at a time.
Compatibility
Is my device compatible with eSIM Airalo?
Check the list in this article.
Hotspot
Could I share data?
Yes, by configuring the device settings.
Features of the Airalo eSIM
Countries with Airalo eSIM coverage
Airalo has coverage in 190 countries including France, United States, Spain, China, Italy, Turkey, United Kingdom, Germany, Mexico, Thailand, Hong Kong, Greece, Canada, South Korea, Japan, Singapore and Malaysia. For this reason the company has partnerships with several local operators around the world.
Online marketplace
A large percentage of its sales are online, users or travellers can easily access a data plan from anywhere in the world from Airalo's official website or through the App for IOS and Android. The Airalo App is available for IOS and Android operating systems and can be downloaded for free from the Apple app store (IOS) and Google Play Store (Android).
When you open the app, the menu with three main information options and the product finder is displayed.
How the Airalo App works?
Within its application it refers to the inventory of eSIM products divided into three categories.

eSIM Local: for travellers visiting a single country, a list of the top countries for travellers is displayed in alphabetical order. When you select a destination, the destination, the operator with which you will be connected, the type of plan, the amount of data purchased, the validity in days and the price in dollars are indicated.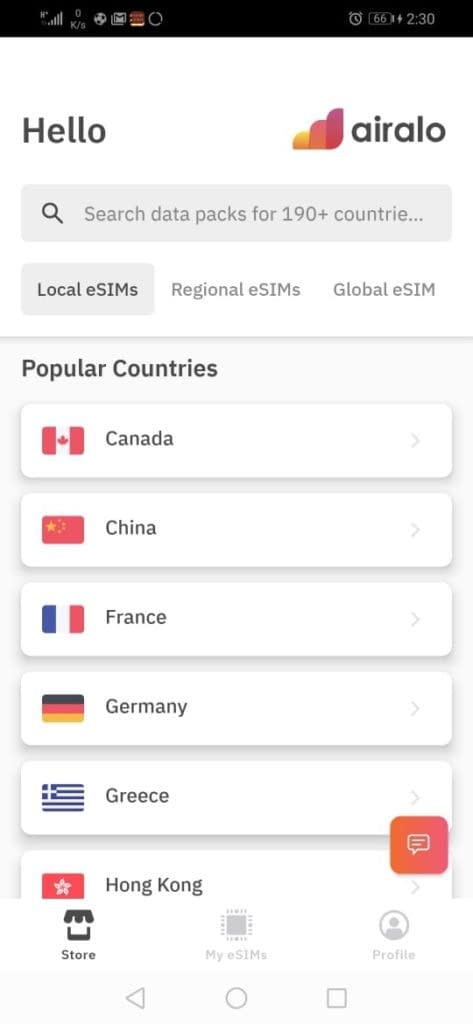 Regional eSIM: Ideal for users who travel to more than one country, when reviewing you will see icons for four regions: Africa, Asia, Caribbean Islands and Europe. By clicking on one of these categories you can see the details of an eSIM that has coverage to a certain number of countries, all of them work through a prepaid plan, you can see extra data such as the days of validity, the amount of data and the price to pay. Just click on BUY NOW to start purchasing the product.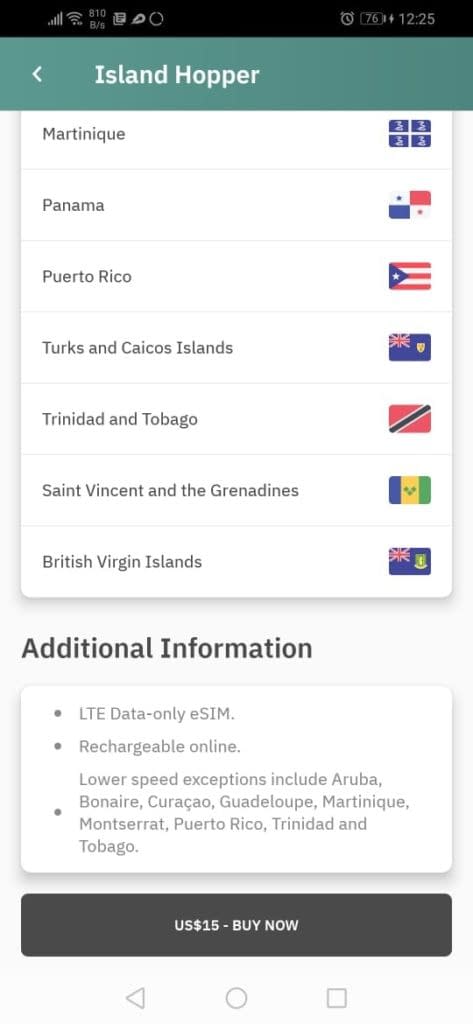 eSIM global You have coverage in 94 allied countries around the world. Clicking on this category shows the relevant information described in the previous two categories but warns that the product does not have a phone number and is rechargeable online.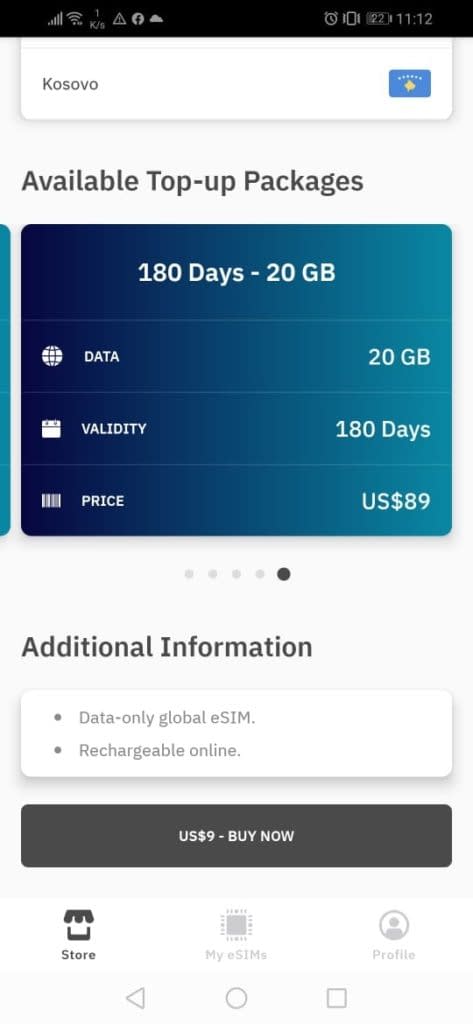 Airalo App Registration
By registering from a gmail account or via your personal Facebook account, you get a record of the products purchased.
Time needed: 20 minutes.
We show you the steps to follow to register in the Airalo App to acquire an eSIM.
Enter your personal data

Fill in the fields with your name, email and a password.


Log in

Enter your registration details


Start using the App

You are now inside, you can start buying your packages.

Is my device compatible with Airalo eSIM?
Airalo is currently working on expanding the list as soon as possible, the more devices that come to market with eSIM the better.
These are the devices compatible with the Airalo eSIM:
iOS devices:
iPhone 11
iPhone 11 Pro Max
iPhone XS
iPhone XR
iPhone SE (2020)
iPad Air (3rd Generation)
Android mobiles:
Samsung Galaxy Fold
Samsung Galaxy S20
Samsung Galaxy S20 Ultra
Samsung Galaxy Z Flip
Nuu Mobile X5
Google Pixel 3 & 3 XL
Google Pixel 3a & 3a XL
Google Pixel 4 & 4 XL
Gemini PDA
Moto Razr 2019
Huawei P40
Huawei P40 Pro
Other operating systems and computers:
ACER Swift 3
ACER Swift 7
ASUS Mini Transformer T 103 HAF
ASUS NovaGo TP370QL
ASUS Vivobook Flip 14 TP401NA
Dell Latitude 7210 2-in-1
Dell Latitude 9410
Dell Latitude 7310
Dell Latitude 7410
Dell Latitude 9510
HP Elitebook G5
HP Probook G5
HP Zbook G5
HP Spectre Folio 13
Lenovo Yoga C630
Lenovo Miix 630
Lenovo Yoga 520
Lenovo Yoga 720 convertible laptops
Samsung Galaxy Book 2
Surface Go 2
How and where can I redeem an Airalo discount code?
You can do it from the Airalo website or through its App. We describe the steps below:
On the Airalo website:
Click on the website
Log in from your Airalo account
Select eSIM
Click check out
Click on Redeem Discount Code
Enter the discount code and click on apply or redeem
The code has been applied.
In the Airalo app:
Open the application
Sign in with your Airalo account
Select eSIM
Click on check out
Click on Redeem Discount Code
Enter the discount code and click on apply or redeem.
The code has been applied.
Requirements for obtaining and activating an Airalo eSIM
The process is similar on both Android and iOS devices. Please note the following:
On Android mobiles
You should to take into account next:
Your device requires to support eSIM.
Android devices that support eSIM have the option to add network or Add carrier in the menu.
Your device requires to be unlocked from the local network.
You need to have an excellent WIFI connection.
There are two methods of adding eSIM to your device, the steps may vary depending on the type of phone or device you have. The first involves scanning the QR code and the second is done manually.
On iOS devices
You should to take into account next:
Your device requires to be eSIM compatible.
Your device requires to be unlocked from the local network.
You need to have an excellent WIFI connection.
History of Airalo
Airalo was founded in Singapore in March 2019 by Bahadir Ozdemir. Airalo was part of the Antler incubation programme from which it received investment from Antler and Angel investment from Jeremy Bonin, who is part of a French telecommunications company. Co-founder Ozdemir received a total capital of 150,000 (approx. €136,137) when Airalo was just an idea on paper. Recently, the company raised $1.75 million (€158,824 approx) in early stage funding.

Although Airalo's founder dropped out of school, he was not deterred from becoming a serial entrepreneur. He has founded 8 organisations in the last 15 years, some of these include Vestra (a boat tracking website selling on robots). Simcrew (a global sim card for sailors) and Bibi (the world's cheapest data messenger). Before Airalo, over the last 10 years, Ozdemir was working with sailors around the world who asked for local sim cards. The idea for Airalo was born out of the need for sailors who required multiple cards at their destinations.
As soon as eSIMs were announced in smartphones Ozdemir took the opportunity to start his own global SIM card shop. Which he has been working on until now. Since eSIM technology is not too old, telecom operators offering eSIM were surprised to discover that there was an eSIM online shop like Airalo. They quickly jumped on board the business model, given that their current models are based on offline sales or through physical cards where the consumer searches within the shop. Since Airalo came up with the idea of acquiring an eSIM they had never set foot in another country before, it was immediately a lucrative deal.
Airalo Co-funder
Ahmet Bahadir Ozdemir: is a serial entrepreneur with a background in transport and telecommunications. His latest startups include Wossco, the Foodpanda for ship supplies, Sim4Crew and Global MVNO for sailors.
Airalo's headquarters
Airalo's headquarters are currently located in the central region of the Republic of Singapore in the city of Singapore. The base region belongs to Asia Pacific (APAC) and the Association of Southeast Asian Nations (ASEAN).
Frequently asked questions about the Airalo eSIM:
When can I install my eSIM?
You can install the eSIM at any time after you have purchased it. It will be activated and the validity will start as soon as your device is connected to an available network. Please note that certain eSIMS are activated once installed, if this is the case it will be displayed in the additional information which is shown on the right button of the selected data plan.
Can I make calls or send messages?
Most Airalo eSIMs do not have a phone number or call balance.
Can I receive calls to my home number?
This depends on your device, some only allow 1 SIM or 1 eSIM card connected at the same time. If you are using an iphone for example some models in particular have Dual SIM (DSDS) technology, this technology allows you to stay connected to both the physical sim card and the eSIM card simultaneously.
Can I reinstall eSIM?
Most eSIMs cannot be reinstalled. However, there are some exceptions. If your eSIM can be reinstalled, you will see it in the additional information which is on the right button in the section of the selected data plan.
Can I remove eSIM from my device once it has been installed?
Please note that you cannot install an eSIM on your device once it has been removed, you can remove or temporarily disable an eSIM from the device settings, please refer to the official Airalo website for more information.
Can I share my data?
Sure, you can use your Hotspot to create a personal network with eSIM.
Can I use the same QR code and install eSIM on multiple devices?
Unfortunately, you can install an eSIM only on the device. If you have removed your eSIM from your device please contact Airalo support.
When does my Airalo eSIM plan expire?
Each data plan is valid for a certain period of time, your plan starts counting when the eSIM is connected to a network. The validity of the plan may expire soon if you use up the balance that comes with the eSIM before the end date of the plan.
Where can I buy the Airalo eSIM?
Visit the Airalo website or download the App available for IOS and Android operating system from the App Store (IOS) and Google Play store (Android).
What are the payment methods?
The company has several online payment methods, you can pay with Visa, Mastercard, American Express or debit cards, paypal and Airmoney, Airalo's official credit system.
Social media
Airalo is using social media and email campaigns to make this technology known to its users and how it can be used for their benefit. The motto has been, what if you could install sim cards for your next destination, even before you go on a trip?
After considering it a bit Ozdemir says that Airalo has users from 40 countries who have purchased an eSIM and connected in 67 countries. Regarding limited eSIM devices, about 400 million devices are expected to support the technology by the end of 2020 and about 2.5 billion people are projected to have an eSIM-compatible device by the end of 2024. Airalo will also produce announcements of video on their social networks such as Facebook, YouTube, and Instagram to help people learn more about the company, eSIM technology, and more.